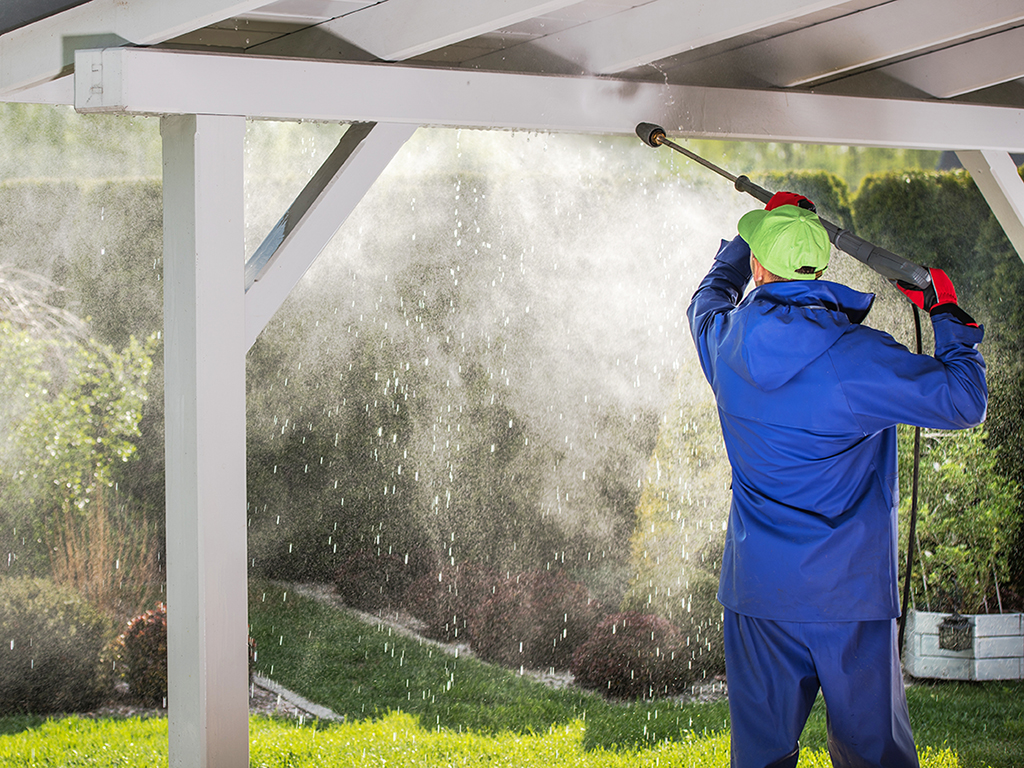 The seasons have finally turned the corner and we're spending more and more time outside. How does the exterior of your home look after this long, cold winter?  Let's focus specifically on your home's aluminum and vinyl siding. Has the winter left it dirty and grimy?  Can surface dirt be easily washed or wiped off?  Are some stains more set in and won't budge with a scrub?
Cleaning your aluminum or vinyl siding is a dreaded task but cleaning it is extremely necessary to the overall look of your home's exterior. How do you reach these impossible areas effectively and can power washing it yourself damage your home?  Let's explore why you should not do this one yourself and ultimately choose to hire a licensed, professional contractor to power wash your aluminum or vinyl siding.  Professionals know how to use proper pressure and detergents and can prevent structural issues due to water damage.
Professionals use Low Pressure and Proper Detergents
Professional contractors know the key to power washing a home effectively is the combination of low pressure and proper detergents. They have the experience, knowledge, proper supplies and equipment to do the job right. Truly, pressure washing is meant for the hardest surfaces. Surfaces like concrete, stone, brick and decks. The powerful blast of water is dangerous for soft surfaces. Siding is a much softer surface than those mentioned and pressure washing can certainly damage it if done incorrectly. Take caution if doing yourself.
Power washing can damage windows but a professional contractor knows how to clean the aluminum or vinyl siding near windows without damaging them. Experts take very seriously the structure of your home and are more careful around delicate areas.  Power washing can also remove paint so unless you are planning on repainting, I wouldn't plan on power washing that particular area.  If your home has lead paint, all the more reason to contact professional as this can be very toxic.
Contractors will usually use a brush to scrub your home's aluminum or vinyl siding prior to power washing. Then they will use a soap solution that is meant to remove and prevent algae and fungi. There is certainly a science to the process that includes knowing that each home is different structurally. They also have the knowledge of the various types of siding and the variables of how your siding can react to chemicals and pressure.
If you live in an older home that has not been maintained over the years, the stains quite possibly cannot be removed by this service. Good advice is to keep your aluminum and vinyl siding well-maintained over the years. Have the siding gently power washed annually by a professional. This is so dirt, mould, bird droppings and any other debris doesn't set in and actually stain the surface over the years. This will require a more detailed and pressured wash, or even possibly replacement.
Professionals Can Prevent Structural Water Damage to Your Home
Insurance companies in Ontario have declared that water damage is now the leading cause of personal property claims, surpassing fire. Fire may be the most feared but in the long run, water damage can be more problematic for yourself and your family.  It not only can cause structural damage as fire can, but water damage issues can linger, leaving your home with the risks of growing bacteria and mould. Mould and mildew will most certainly lead to chronic health issues and require you to make fixes over the years or declare your home uninhabitable.
Rain falls downward onto your home but as long as your roof as intact, it will save your home from water damage. When power washing, you will be shooting water upwards from the ground level. Your roof cannot protect this angle of washing. This can certainly wreak much havoc on your home when not done properly. Water can reach crevices and seep into siding vents… even through concrete. Water can rot the wood between the siding and your home and even rot the siding itself. Water damage can be done to your attic and walls which then can lead to the growing bacteria, mould and mildew.
Also, if the pressure of the water is too great, you can shoot a hole right through your siding. Do not underestimate the pressure of the water. As mentioned, this type of washing is meant for hard surfaces.  If you happen to put a hole or crack in your siding, or worse, break a window… this will require a full replacement of the panels at the least, a window at worst and either way a financial and time burden you hadn't anticipated this year.
So don't dread the task of power washing your aluminum or vinyl siding this spring and certainly don't take this burden on yourself. Leave it to the professionals to get your home's exterior looking its very best this year. Professional contractors use the proper supplies and equipment to not damage your home and will ensure that their work will not cause your home structural damage.  Start by contacting me for a recommended list of trusted home contractors who specialize in power washing homes. They are licensed and bonded to ensure you have nothing to worry about when allowing them to do this intricate work on your home.